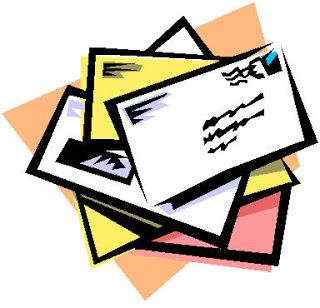 We were scheduled to host at our home tonight this quarter's Vital Signs
Ministries letter-writing party. But with the restrictions from local government as well as some genuine concerns from some of our regulars, we are giving our team effort a couple of different spins.
1) The letters will be written at your own homes.
And
2) Unlike our other parties where our agenda involves specific legislation, advocacy of pro-life and pro-family issues, principled protests, thank yous for jobs well done, and so on, this time around we are suggesting letter-writers deal with a single area; namely, taking aim at the depression, loneliness, boredom which can so easily arise in the coronavirus quarantines all around us.
To who are we suggesting your letters go?
* Letters and cards to those in your church family who are most affected by the social isolation. We're thinking primarily of seniors but it could include a weary mom or dad who might be stressed out over job worries, taking care of the kids, and all the rest.
* Residents of senior care facilities. In many cases, these folks are even having their meals served in their individual rooms. The need is an aching one for encouragement and spiritual uplift.  Letters, greeting cards, coloring pages made by your kids, Scripture cards — you name it — can be collected and sent to a senior care facility that you have contact with. Or, if you don't have one, ask us. You could even introduce your letters as coming from a Vital Signs Ministries event.
Let me give you an example that we learned of just today regarding the power of a single letter.
Last week we sent to all 12 of the facilities where we present our "When Swing Was King" shows (all cancelled, this month…and probably next) an entertainment–activity–encouragement pack which the activity directors then printed off and handed around to residents. Furthermore, we promised we would do something in this line every few days during the "Great Hunkering Down" period. Well, the results are coming in that not only were the activity directors very excited and appreciative about the idea, so are the residents themselves. This thrills us to no end.
And here is a letter that one of the A.D.s sent to us this morning written by one of the "When Swing Was King" fans. It was a direct response to our letter and the accompanying packet.
"Denny, Thank you and your wife for the items. I have told you before that your "Swing" show is my favorite entertainment at Aksarben. As a 93-year old WWII guy (my wife is 91), we related to the 40's and 50's songs. Thank you for your concern. Everyone has to 'hang tough' and stay positive!"
The A.D. then added, "I heard many others say how much they appreciated the letter from you! Thanks again!"
As we've said for almost 40 years of pro-life ministry, letters make a difference.
And finally, a third target group. 3) Caregivers. This would include doctors, nurses, med techs, pharmacists, and other medical workers. These people are also feeling the stress and so a letter or card with a word of thanks, encouragement, and promise to pray could mean an awful lot.
Can we measure the impact of our joint effort in writing letters? Not on this side of heaven. Nevertheless, we can encourage one another by joining in this team effort. You can do this by letting us know if you're in and how many cards or letters you sent. (We're considering the deadline for this particular "party" to be this Thursday noon.) And an added feature is that we are going to host a Zoom video cast get together on Friday evening at 7. If you're interested in that, let us know too.
By the way, if you'd like to see the first of our entertainment-activity-encouragement packets sent to the senior facilities, check out this Vital Signs Blog link