Dear friends of Vital Signs Ministries, August 2020
I was recently blessed by a sermon from a friend of longstanding (Phil Neal, now living in Minnesota) which concerned Asa, the king of Judah whose story is told in 1st Kings 15 and 2nd Chronicles 14-16. It was a sermon like many I am privileged to hear from Stephen Davey, Adrian Rogers, and others in that it was encouraging, challenging, and a stimulant for me to dig in and do further study of the Bible passages involved. And because the lessons I gleaned from that study were so relevant to the times we're now living in as well as being doubly relevant to older Christians like myself, I am using this month's Vital Signs letter to pass some of those lessons along. They point to the need for believers to stay alert, to be wary of trusting in one's own judgment and power, to steadfastly avoid compromise, to accept correction when necessary, and to seek God when in trouble. But let's start with a brief summary of King Asa's story.
Asa, the great-grandson of Solomon, did not have a very positive heritage to draw upon. Solomon himself had ended his life badly, throwing away the spiritual advantages the Lord had given him, throwing in his lot instead with the false gods of his many pagan wives. And in between Solomon and Asa were a couple more bad kings, Rehoboam and Abijam. What a wonderful surprise then that Asa comes to the throne dedicated to breaking this generational pattern of sin. For Asa "did what was right in the sight of the Lord like David his father." He banished the perverted prostitutes and he "removed all the idols which his fathers had made." Asa even evicted the Queen Mother whose unconstrained evil in worshipping idols included making what Scripture twice informs us was a particularly "horrid" image.
Furthermore, King Asa served the nation of Judah as a zealous intercessory leader, urging the people to seek the Lord and to observe all of His laws and commandants. He built fortified cities and the Lord blessed the nation with peace. King Asa understood, however, that the critical part of the nation's protection was not in those fortresses or military strategy or the fervency of the Judean soldier. No, it was in God Himself. Therefore, when Zerah the Ethiopian shows up with a huge and fierce army, Asa's immediate response was to humbly call out to Jehovah in prayer: "So help us,
O Lord our God, for we trust in You." And, of course, that's exactly what the Lord wanted Asa to do. And, in return for that intense appeal, God routed the enemy and gave Judah a complete victory over the invaders.
Way to go, Asa! But be careful, dear king. For a spiritual victory today doesn't guarantee one tomorrow. Even if you're a man who has been dedicated to the Lord for many years and with an impressive record of sanctification behind you, the next challenge can be overcome only with that same steadfast reliance on God. You can never coast. You can never let down your guard. And to emphasize this truth, Chapter 15 of 2nd Chronicles shows how the prophet Azariah came on the scene right after God's miraculous defeat of the Ethiopian forces with this word for King Asa: "The Lord is with you when you are with Him. And if you seek Him, He will let you find Him. But if you forsake Him, He will forsake you…But be strong and do not lose courage (literally, do not let your hands drop) for there is reward for your work."
The text lets us know that Asa took that exhortation to heart. He did take courage and instituted even more reforms. He prepared more sacrifices for God and continued to lead the nation so well that verses 12-15 report: "They entered into the covenant to seek the Lord God of their fathers with all their heart and soul; and whoever would not seek the Lord God of Israel should be put to death, whether small or great, man or woman. Moreover, they made an oath to the Lord with a loud voice, with shouting, with trumpets and with horns. All Judah rejoiced concerning the oath, for they had sworn with their whole heart and had sought Him earnestly, and He let them find Him. So the Lord gave them rest on every side." What a nation! What a king!
However, another dark storm cloud appeared in the 35th year of King Asa's reign. But, of course, everyone would presume that such a steadfast servant of God as Asa would meet this challenge just as he had so many others before. Right? Read on.
The test came in the form of Israel's King Baasha who was again making threatening sounds along Judah's southern border. Now that wasn't anything new. Baasha had been warring against King Asa for years but never (because of God's faithfulness to Judah) with success. But this time — for whatever inexplicable reasons — King Asa failed the test. Indeed, instead of turning to the God he had so long and earnestly served, Asa now played the coward and disloyal ingrate by turning to a pagan ruler (Ben-hadad, the king of Aram whose throne was in Damascus) and making an extremely expensive treaty with him. Indeed, in order to bribe Ben-hadad to secure his help against Baasha, King Asa looted the treasuries of both his house and the Lord's house! What a shocking change of behavior. Who would have guessed that a faithful, zealous servant of God could collapse so completely, so shamefully. I think it is one of the saddest stories in the Bible.
But wait; it gets worse. Immediately following Asa's cave-in, the prophet Hanani comes with a message from Jehovah: "Because you have relied on the king of Aram and have not relied on the Lord your God, therefore the army of the king of Aram has escaped out of your hand. Were not the Ethiopians and the Lubim an immense army with very many chariots and horsemen? Yet because you relied on the Lord, He delivered them into your hand. For the eyes of the Lord move to and fro throughout the earth that He may strongly support those whose heart is completely His. You have acted foolishly in this."
Note that even in this rebuke, the prophet uses the phrase "the Lord your God."
I believe in doing so, Hanani underscored Asa's long and noble relationship to Jehovah and he is urging him to repent and seek restoration of fellowship. But Asa wouldn't do that. Instead he doubles down in his foolish sin and throws God's prophet in prison! Alas, the final years of Asa's reign are then played out in a most doleful way. The king turns on the people and oppresses them. There are wars for the duration of his life. And God banishes Asa to another kind of prison — a sickbed from which he will never get up. Even then, Asa remains stiff-necked and rebellious. The Scripture reports that Asa's "disease was severe, yet even in his disease he did not seek the Lord, but the physicians."
What a story, huh? And after reading through this summary, you can perhaps see why I found it so illuminating and challenging. In fact, I have been pondering how the lessons from King Asa's life are of particular relevance in three important areas. 1) As an American, I can see in King Asa's story a profound picture of where our nation is today. Never perfect, of course, the American experiment nevertheless represented a miracle — the first time in history a democratic republic was formed. The success of America came because the founding fathers had a Christian worldview on matters of law and justice, sin and reparation, property and enterprise, freedom and responsibility, family and community, the sanctity of life and other issues of biblical morality.
But, like King Asa, after a long and noble history, America's courage collapsed as she started making disastrous compromises with a pagan world. We have legalized the murder of preborn children; we have promoted sexual perversion through government education and civil mandate; we have defended and encouraged blasphemy and lawlessness; we have granted powerful (and monopolistic) powers to liars; and we are increasing by the day our denial of religious freedoms, especially those practiced by biblical Christians. America started strong with commitments to godly purposes and principles. And along the way, the nation made further progress by eliminating such evils as slavery and child labor. But then, despite our foundations and God's bountiful blessings, we began to turn to false gods. And now, like King Asa, America is stretched out on its own sickbed and stubbornly, stupidly refuses to call out to God for help.
2) Here's a second application. The lessons of King Asa are also particularly relevant to older Christians, those who have known, loved, and served God for a considerable time. Think about it. Did King Asa, as an older man, experiencing diminished energy and ambition, simply relax his guard? Was he satisfied with the reputation he had won as a godly king, thinking he could slack off a bit in his "sunset years" and therefore not be as concerned about walking with God as he had once done? Oh, yes; the warnings are quite strong here for older believers – older believers like me. The lesson is that I need to be more careful than ever to heed the prophet Azariah's message to King Asa: "The Lord is with you when you are with Him. And if you seek Him, He will let you find Him; but if you forsake Him, He will forsake you…But you, be strong and do not let your hands drop, for there is reward for your work."
So how can we insure this reward? How do we keep our hands from dropping the responsibilities the Lord gives us? How do we avoid the complacency, pride, and compromise that ruined King Asa's testimony for God? Well, Claire and I decided quite a while ago that it wasn't enough to merely conduct a "maintenance campaign" regarding our spiritual health. We knew that we needed to keep growing in our faith, keep moving forward. We wanted to steer clear of that dangerous tendency to "drift" which the Scripture warns mature believers about in Hebrews 2. After all, the only thing you need to do to drift is to stop moving forward. For instance, when you're in a river, all you need to do to drift downstream is to stop swimming. It's a simple physical fact with direct applications to the spiritual — no forward movement equals backward movement.
Knowing these things, we committed ourselves to be even more active (and strategic) in daily Bible reading…in daily times of prayer together (as well as on our own)…Bible study projects and Christian books…checking in with Joni Eareckson Tada's morning devotional…the ongoing involvement with our Thanksgiving Jar project…watching less TV and investing in more productive pursuits, including sermons, reading quality books, listening to Christian music…being keenly intentional about our fellowship with faithful believers (and wow, do we hang around with some of the very best)…working harder against those "easily besetting sins" we're warned about in Hebrews 12:2…services rendered to our church… services rendered through Vital Signs Ministries; and so on. Again, drifting downstream is way too easy to do. It takes careful attention to spiritual disciplines, stimulating friends, fervent prayers, and the grateful acceptance of God's endless supply of "second chances" to move forward.
3) What can King Asa's "late innings collapse" teach Vital Signs Ministries or, for that matter, any other Christian organization, school, or church? The same lessons apply but, since I'm running out of room here, I'll simply say, "that's another story for another time." So, I will close this month's letter with a brief prayer, one that is applicable to all three of the situations I mentioned.
"Lord Jesus, deliver us from the 'late innings collapse' that King Asa experienced. Help us to not look back to past achievements or experiences. Help us not to relax our vigilance. Remind us of the fact that the enemy never stops looking for a weak spot where he can attack us. And a prayer, heavenly Father, that You help America rebound from its present decadence and despair through repentance and a new resolve to honor the Almighty God of creation. I plead also for backsliding, drifting, compromising Christian institutions to rediscover their first love and return to carefully obeying Your Word, to seeking Your glory, and to stop trying to please the pagan culture which surrounds them. And, Spirit of truth and holiness, please minister all needed mercies to older Christians like Claire and I. Help us to move forward, to grow in Christ, to love Your Son's appearing, to finish well the race You have appointed for us. Help us not to compromise, cave-in, or drift. Amen."
Until next month,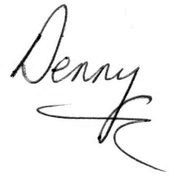 Postscript — To keep abreast of what's happening in the ongoing adventures of Vital Signs Ministries, please check in with Vital Signs Blog, our Facebook pages, and Vital Signs' brand new…yes, brand new…website!