Dear friends, March 2019
Marginalization. The Merriam-Webster Dictionary defines it this way: "To relegate to an unimportant or powerless position within a society or group." The OED (Oxford Education Dictionary) says it is the "treatment of a person, group, or concept as insignificant or peripheral." And, from the Business Dictionary, "The process whereby someone is pushed to the edge of a group and accorded less importance."
I write this month's letter with specific purposes related to the topic raised above; namely, to provide encouragement and perhaps even some empowerment to those of you who are feeling undervalued, underappreciated, patronized, neglected, and otherwise pushed into the margins of life. This can come from a number of sources – physical limitations; changes in location, responsibilities, and schedule; loss of family members and friends; and the intensely stressful awareness that the fashions, technology, pace, priorities, and, most crucial of all, the morality of modern culture have moved light years from the world you once knew. Let me describe a few examples.
Perhaps you have suffered an injury or dealt with an illness that required you to forego your normal activities. And, as you lay coughing in your sickbed or gaze mournfully out the window with your leg in a cast, you not only suffer physically but also experience the frustration that you are missing everything important as life streams by. Or take another case. Maybe you have been forcibly retired from your job and you chafe at the seemingly vast difference in significance of your social worth. Just a few months ago you were making plans and decisions that mattered to many people. Your experience and skills were of value to the whole company. But nowadays it seems like the biggest decision you make in a day is whether to have the egg salad sandwich for lunch or the beef barley soup.
Here's yet another situation where marginalization occurs and it's one that involves many of you reading this letter today. This is the case where a more traditional, more conservative Christian (often, but not always, an older person) feels unappreciated and passed over — even by the church where they have faithfully served for decades. Oh yes; this person understands that they are still expected to attend services, write checks, and to keep in mind the church building fund when they make out their estate plans. But heaven forbid they retain any serious influence in matters like music, Christian education, leadership, missions support, or standards of conduct. After all, if the opinions of older, more conservative members were to be taken seriously, the volume of the guitars and drums might have to be turned down a bit…or the members of the worship team might be required to dress less sloppily and immodestly…or that the pastor would be challenged to finally bring the Scriptures to bear on such crucial, overreaching evils of our day as abortion, sexual perversion, cohabitation, religious freedom, the surrender of our children to the pressured propaganda of Hollywood and the government schools, and other compromises with worldliness.
No, it's sad to say, but the conservatives I'm talking about it (and I'm definitely one of them) will probably face even more marginalization in the future and not only by the general society (with its immorality, ignorance, entertainment orientation, and political correctness as defined by the left) but also by the church which drinks from the same cultural fountains.
But here's the basic point of this letter. It is not enough to bemoan the situation. To only gripe about it is pointless and actually counter-productive. Of course, people don't like to be ignored. They don't like to be patronized. They don't like to be bored by inactivity. But, for followers of Jesus, there are much better responses than whining or escapism. For no matter what circumstances the Christian encounters, the gracious provision of God is always available for spiritual growth, a joyful peace of mind, and fruitful relationships with God and others. What fantastic news! Whatever your physical challenges, whatever your changed routines, whatever sorrow or loss you have experienced, whatever isolation you might face because the cool kids have kicked you out of their clubhouse, the Lord Himself is eagerly waiting to fellowship with you, teach you, and still use you to shine forth His glory. God is right there with you. Everywhere. Even in the margins.
But let me mention some of those "better responses" I've been thinking of these last few months. Each one deserves a lot more thought and discussion than I have time for in this letter but my hope is that they will, at least, serve as a "sanity check" for those whose marginalization was making them feel crazy or paranoid and as an open door to fresh hope, new study, and further discussion. Let's get to it.
1) Take firm comfort in the fact that God is in control of your present circumstances, even those that may have been discourteously and unfairly foisted upon you by others. God's love is not a whit less because you are alone, or in a wheelchair, or denied a promotion because of age discrimination, or disowned by your children because you hold what they consider reactionary political views. Therefore, don't give in to anger, envy, self-pity, or escapism. Rather lean into God's strength. Trust His love for you because even when He brings temporal trials into your life, it is to produce spiritual riches… for now and in the life to come. Yes, anticipate the glorious victory that awaits you in heaven. (More on this crucial point in a few moments.) And know that as you develop an eternal perspective and deepen your friendship with your Savior, you are never in the margins with Him. Oh no; you are smack dab in the middle of His gracious will with all the significance and worth which that involves.
2) Of course, the existential intensity of one's relationship with Jesus doesn't happen by accident. It only comes from the fresh reception of and ongoing obedience to God's Word. Bible study, meditation, the relishing of high-quality teaching via preaching, books, devotionals, stimulating discussion with fellow believers — these are every bit as important for spiritual health and productivity to saints living in the margins as they ever were. Dare I say, even more so?
3) Experiencing life in the margins often sharpens ones' discernment of what's truly important in life. And a prime example of this is the ministry of intercessory prayer. In our ambition to serve God in ways that really count, we tend to give priority ratings to preaching, writing books, teaching classes, recording radio broadcasts, playing music to a standing audience, going on mission trips, etc. Sure, we give lip service to prayer but, in our heart, we don't really believe it is as significant as the more public, active things. This is a huge mistake. But it often takes God reducing in our lives those more public, active things before we realize our error. Friends, I am more convinced by the day that when we're living in New Jerusalem, we will see how, for instance, the simple prayers of a bed-ridden saint in an Oklahoma small town had much more significance in God's eyes than many a more public, more active thing done in His Name by others. So, let's grab hold of this great truth now — those living in the margins have, through intercessory prayer, spectacular opportunities to please the Lord and to impact the Kingdom.
4) Humbly seeking knowledge of God, digging out His truths and plans, and applying the Spirit's power to your moment by moment needs will produce fruit in you and will bless the lives of all you come in contact with. The numbers of social contacts may be reduced by your life in the margins (sometimes quite dramatically) but that only means you must be more diligent than ever to be effective salt and light to those who you do see. Avoid whining. Avoid impatient demands. Avoid the blame game. And avoid too the escapism represented by too many Gunsmoke reruns or other expressions of wasted hours. Instead, be alert to all the "divine appointments" that come your way. And in each one of them, be winsome, encouraging, thankful, and of good cheer. Finally, do not neglect opportunities to encourage those who are beyond your physical contact like making phone calls or writing brief notes. And remember always, these seemingly small ministries are much bigger to God than you know. Much bigger.
Let me give you just one example. When my mother was reluctantly given permission by the doctors to return to her assisted living apartment after a rehab stay at a nursing home, at the very last minute she surprised us by deciding to stay at the nursing home. Given her dementia, lack of balance, tendency to infections, and other medical problems, we were relieved by her decision. But the lovely thing about it was her motive. Though she had been longing to get back to her apartment, she told us, "You know, I think God wants me to stay because I think I can have more of a ministry here." And what a ministry she turned out to have! For, even though her physical condition grew steadily worse over the next 18 months, her faith in the Lord's goodness deepened and her ministries of charity, gratitude, prayer, and waiting upon God bore much fruit in the lives of her loved ones, her fellow residents, and her caregivers. Indeed, the "ripple effects" of Mom's faithfulness to God continued way beyond her time on this earth. My novel The Christmas Room and the remarkable impact of our "When Swing Was King" ministry are just a couple of things that she helped inspire. Thanks, Mom; way to go.
And it can be that way for all of us. The margins into which we feel pushed by our physical limitations, age, and conservative convictions can, if we embrace the new adventures available therein, be times of vibrant spiritual growth and astoundingly significant ministry.
5) And one more thing…one more very important thing. As I hinted earlier, that exhortation is this: let your life in the margins intensify your anticipation of heaven. Find courage, joy, and strength in this magnificent truth: everyone who has fully trusted in the sacrifice Jesus Christ made on the cross to pay the penalty of their sins will soon be living in a paradise beyond their most glorious and cherished dreams. And that's not all. The Christian will possess a glorified body and a whole mind, both marked by a beauty and functional vibrancy that will be forever thrilling. All battles will be won, every enemy completely defeated. Forever vanquished also will be all shame and failure, all sorrow and loneliness, all anxiety and pain. Most splendid of all, believers in Christ will live forever in complete harmony and happiness with all the saints of history and in the very presence of almighty God. Therefore, long for that coming day of triumph. And make sure that your longing translates into active living for Christ until that great day dawns.
Now, as I suggested, this letter is much too short to adequately deal with this important topic. I can only hope that it sparks greater reflection and study and discussion so that we can all move effectively beyond the margins and back into the streams of significant spiritual growth and ministry. To be sure, Claire and I are certainly available to talk more about these matters with you — conversations about spiritual disciplines, the best resources about heaven (one of which is mentioned in the postscript), tips on letter-writing and prayer lists, and so on. We would really look forward to such opportunities.
Praying that the Lord pour out all needed graces to you.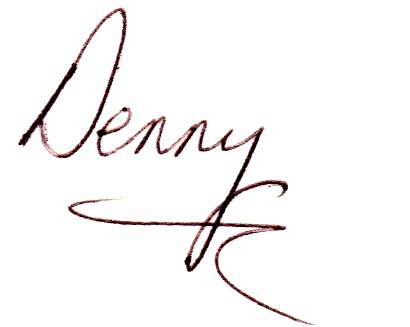 P.S. Among my reading from the last few weeks, I have been particularly impressed by August 1914 by Alexander Solzhenitsyn (a re-read); Lonely Vigil by Walter Lord (another re-read, this one a history of the coastwatchers in the South Pacific during WW II; The Lion's Gate: On the Front Lines of the Six Day War by Steven Pressfield; Broadway Babies Say Goodnight: Musicals Then & Now by Mark Steyn; a re-read of A Miscellany of Men by G.K. Chesterton; and another re-read The Thurber Carnival by James Thurber. However, I'd like to draw your special attention to a couple of upcoming book discussions we will be hosting at our home. One will be over Heaven: Your Real Home…From a Higher Perspective by Joni Eareckson Tada (a revised and expanded version of her superb book from 25 years ago) and Harold Bell Wright's classic novel, That Printer of Udell's which had such a monumental influence in the life of young Ronald Reagan. Let us know if you're interested.