Dear friends of Vital Signs Ministries, February 2019
I write this month's letter very early (just after 6) on a terribly cold and windy morning from the Paradise Cafe in Regency.I'm here because the Westroads Panera (which has been my early morning work space and conversation hangout for several years) recently closed and I haven't yet decided on a replacement.But I don't think this place will do – no decaf on hand; no easy refills; coffee dispensed in throwaway paper cups instead of porcelain; and worst of all, CNN prominently playing in the corner. Ugh.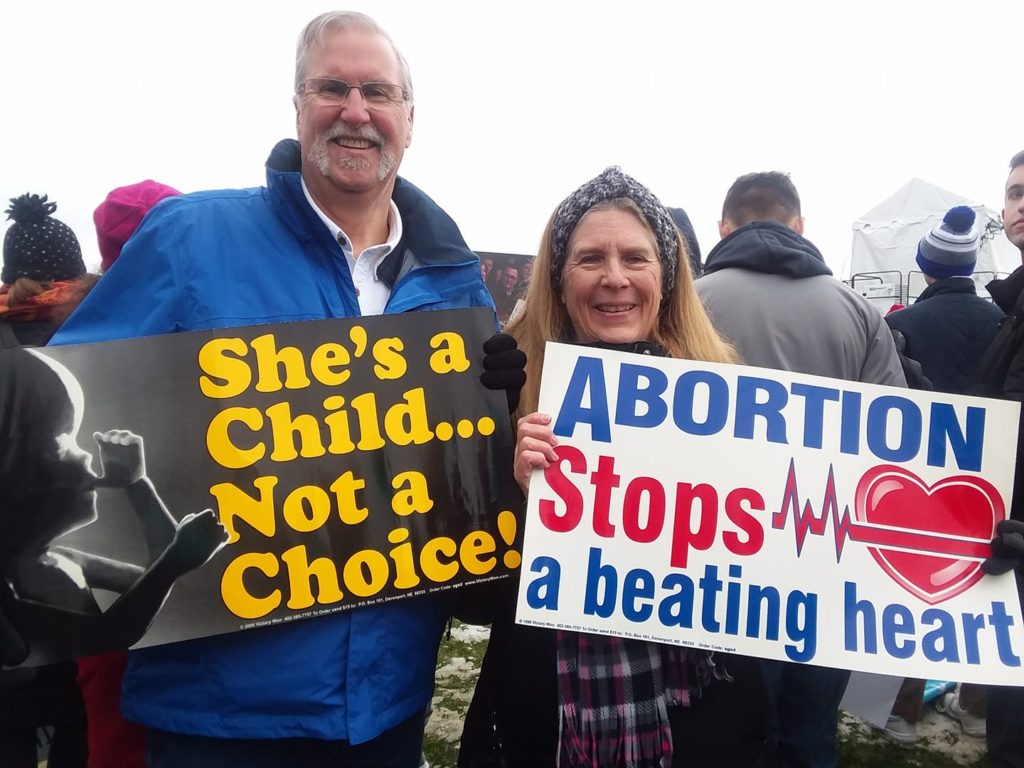 I'm actually writing this February LifeSharer letter even before January is finished.That's unusual. But I'm doing so because I wanted to review for you (while they are still fresh in my memory) some of Claire's and my experiences at the March for Life in Washington D.C. and the Nebraska Walk for Life in Lincoln. And I'll also include a few photos from the Washington March. So, let's get right to it.
* Our air travel through O'Hare to Reagan went smoothly as did the ride to our hotel in downtown D.C.It was a nice place in what the desk clerk called "a changing neighborhood." He was right as our walk to dinner (a burger joint a few blocks away) certainly confirmed. Several new high-rise condominiums and chic restaurants were under construction but, right across a 4-lane boulevard, were some of the most awful slums I've ever seen.We passed a grimy 7-11 store just as a gang of young thugs erupted into a violent melee with screeching, threatening expletives which seemed to match the impoverishment (both moral and economic) of the tenements in which these kids lived. Very sad.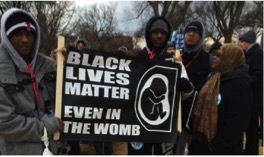 * Of course, it was an even sadder and more cruel reality which caused us to be there in D.C.; namely, to mourn the millions and millions of preborn boys and girls who have been destroyed through "legalized" abortion and to prayerfully protest this ongoing (and even government subsidized) slaughter of the innocents. In this annual March for Life, we joined hundreds of thousands of other pro-life advocates. Many believe this was the largest ever.It was an awesome gathering which provided ample evidence that the pro-life movement is growing stronger and younger by the day and Claire and I were deeply honored to be representing all of the friends of Vital Signs Ministries in this grand public witness.
* Before the huge crowds actually began the walk up Constitution Avenue to the Capitol and the Supreme Court, we heard a rousing videotape from President Trump who, among other welcome remarks, promised to veto any pro-abortion legislation that the Democrats might send to his desk. Right on, Mr. President! Other soul-stirring speakers who were there in person included Vice-President Pence and his wife Karen, Ben Shapiro, Rep. Chris Smith, Alveda King, Abby Johnson, and former abortionist Dr. Kathi Aultman who is now an ardent and eloquent pro-life apologist.
But as motivational as the speeches were, the most profound impact upon Claire and I came from simply standing alongside so many like-minded pro-life people and from having such a special, solemn opportunity to pray, to reflect, and to again pledge our lives to serve the Lord and the "least of these." Claire and I have been in the thick of this intense, prophetic fight for nearly 40 years now and we have been present for many of these marches. Nevertheless, our being here for this particular event created in us a fresh resolve to stay the course for as long as God gives us breath. Thank You, Lord, for the blessing to be here.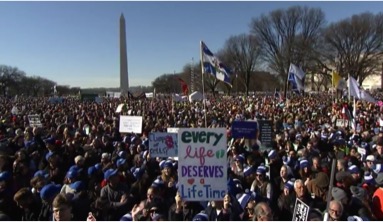 * The trip back home was a bit more problematic because of bad weather and longer lines at security. You see, in response to the government shutdown, some TSA agents had started calling in "sick" instead of facing the possibility of not being paid. However, in the hotel Friday night, we heard somebody talking on Fox News – that's a treat for us because at home we are cable-free – and this person (Tucker Carlson maybe?) challenged travellers to go out of their way to thank the TSA agents for working and thus enabling Americans to stay on the move.We received that as an appropriate exhortation.Now, it's true that the TSA rigmarole we then endured was just as clumsy, irritating, and even borderline offensive as it had been on Thursday.Nonetheless, being purposeful to express our appreciation to these folks ("Hey, thanks for working today. You guys are providing an important service to the country.") made a world of difference in our attitudes and – who knows – maybe in theirs too.
* By the way, cultivating patience proved particularly helpful later that Saturday when we learned that our flight from Chicago to Omaha had been cancelled and we wouldn't get home until Sunday evening.However, we were safe and warm. We had enough to read. We had a swell restaurant attached to the hotel that we found. And, most important, we were together — together to go over the memories of our adventure and to start planning the next ones.
* The week after we returned from D.C. was a busy one. We had our final three "When Swing Was King" shows of the month; I gave a talk dealing with spiritual disciplines to staff members of the Assure Women's Center; we hosted a fireside conversation for the Notting Hill Napoleons (our book club of longstanding); we dealt with the snow and cold and a frozen battery in our Equinox; and we got everything ready for the Vital Signs Ministries literature booth we were setting up the following Saturday for the Walk for Life in Lincoln and another one for our church the next morning. At the one in Lincoln, we were delighted to give away 40 copies of Randy Alcorn's excellent book, Why Pro-Life? We also distributed other literature including our new brochures, "Abortion & Church History" and "Sanctity of Human Life: Key Scripture Passages." (Please let us know if you would like any of this free material. We would be delighted to send it along, including enough for you to distribute to friends, family, and church members.)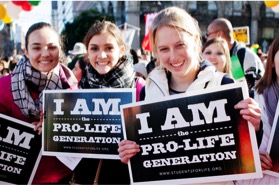 * That Walk for Life in Lincoln was another very encouraging event for us. With 3,800 people, it was also one of the largest crowds ever for that event, even though the morning was snowy and quite cold.Here too the speakers were terrific. Governor Pete Rickett's description of New York's new abortion law as "utterly depraved" was spot on. After all, that bill allows no limitations whatsoever on abortion, even up to the moment of live birth. It allows abortions to be committed by persons other than doctors. It allows no protection for newborns who survive abortion and need medical care to survive. And this draconian legislation actually drew cheers, gleeful laughter, and lewd dancing from the woefully misnamed "liberals" who pushed for this barbarism. God have mercy
on America.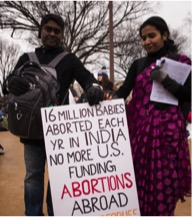 * Senator Ben Sasse also addressed the crowd in front of the State Capitol, urging us to appreciate the dire need for pro-lifers to show to the watching world the dramatic differences between such moral bankruptcy as that which celebrates abortion with values the Bible commands us to generously demonstrate – values that include holy living, civility, spiritual joy and purpose, and a consistent love for others, including preborn children, their mothers and fathers, all others who are weak and defenseless…and, yes, our enemies too. But, make no mistake, we must never, in a falseunderstanding of what love is, dare to compromise on the truths the world so desperately needs to hear.
* Congressmen Don Bacon and Jeff Fortenberry were on hand also as were several pro-life state senators. They warned that this year's political battles (at both the federal level and in the Nebraska Unicameral) will not come even close to pro-life victories unless pro-life citizens get a lot more serious than we have heretofore shown — in prayer, in education and mobilization of friends and family, and in keeping politicians accountable to truth and justice. And finally, the primary speaker was Catherine Adair, a former abortionist whose testimony about Planned Parenthood and the abortion industry was sickening and infuriating. However, the rest of her story dealt with her acceptance of the gracious forgiveness offered by Jesus Christ through His atoning sacrifice on the cross. And that, of course, provided remarkably beautiful hope and inspiration for her closely attentive listeners.
* Well, okay. I think that's about enough for this month's letter. And I do have to get moving on some other things for today.For instance, there's this month's "When Swing Was King" program I haven't yet created and I've got a new compilation post to upload on Vital Signs Blog. Then later this morning, Claire and I are meeting with LaVern Smith to discuss an art show we will be hosting at our home on March 17th. It's an art party featuring several dozen of LaVern's original paintings (all priced to move) with ALL of the proceeds going towards finishing a church building in Diamonds, St. Vincent where LaVern and his wife Marlene served as missionaries for many years.Put it on your calendar, won't you?It will be a fun, interesting way to celebrate St. Patrick's Day.
Of course, in between this letter and next month's, you can always keep in touch with our ministry as well as news and opinion pieces on the culture wars via Vital Signs Blog, the Book Den, our various Facebook pages, and the Vital Signs Ministries website. And, as always, our sincere thanks for your prayers, encouragement, and financial support.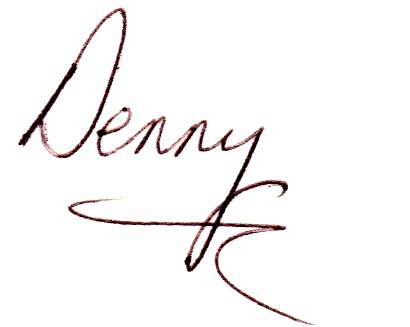 P.S. Last month we started a practice in response to a specific request; that is, to share book recommendations from my recent reading. The response to that proved quite encouraging and so we will continue this practice for a while anyhow. Here then, from my reading of the last few weeks, are the books I'm highest on. Fiction: Valley Forge: George Washington and the Crucible of Victory by Newt Gingrich and William R. Forstchen; The Mysterious Island by Jules Verne; and a re-read of The Paradoxes of Mr. Pond by G.K. Chesterton. History:
The Wright Brothers by David McCullough. Culture and Politics: Ship of Fools by Tucker Carlson. Biography: Life is Mostly Edges by Calvin Miller. Theology and the Christian Life: Besides the Chesterton and Miller books which fit into this category too, there was a re-reading of the exceptional Death in the City by Francis Schaeffer.