Dear friends of Vital Signs Ministries, May 2018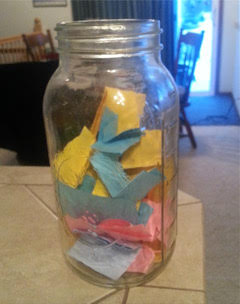 I have described to you in a previous LifeSharer letter (January 2016) Claire's and my Thanksgiving Jar Project. But if you'd like a review, there's a brief video clip on the front page of the Vital Signs Ministries website. Please check it out. Anyhow, we are now in our 3rd year of this practice where we regularly drop in notes reflecting our thanks to God for the various (and abundant) blessings He bestows. We then read through those notes during our prayer times in the first months of the new year. It has become a very important spiritual discipline for us, expanding our "gratitude attitude," increasing our awareness of God's loving providence in our everyday lives, and helping to keep us abiding in Christ's grace.
In this month's letter, I am going to show you in a more "up close and personal" way how this thing works and, in the process, pass along some ministry updates too. Claire thinks it's a natural pairing for a LifeSharer letter. I hope you agree. Of course, the items I list below are not the exact texts of the notes dropped into the jar but, as best we can remember, they capture the essence of our thanksgiving items from the last few weeks. Here we go. Thank You, Lord, for…
* The daily email devotionals we receive from Joni Eareckson Tada. They have been absolutely superb!
* Perly and Sandy Schoville getting home safely from their momentous mission trip in Nicaragua. Good work on the buildings. Good counsel to the locals. Good learning experiences. And they were kept safe from the grave civil unrest that broke out while they were there.
* The special treat when a lady stopped her car while several of us were praying and holding pro-life signs in front of Planned Parenthood last Saturday morning. It turns out she wanted to thank us and encourage us for our life-saving witness. She shared her own story and we all prayed for each other. A wonderful divine appointment.
* A very stimulating morning Claire and I spent down in Lincoln for the Nebraska Family Alliance's National Day of Prayer activities. They are dedicated, inspiring servants. And it was stimulating to learn more about the good pro-life work of Governor Ricketts, Lt. Governor Mike Foley, State Senator Dan Watermeier, and others.
* Forgiveness and fresh starts. Your mercies are new every morning. Thank You also for the Scriptures, the power of the Holy Spirit, and our eternal inheritance.
* "Iron sharpening iron" fellowships we have enjoyed recently: brunch with Rick & Kelly Duncan; lunch with Bob & Linda Potter; dinner and outdoors play time with the Troutman family; dinner and a film with Jim & Jeanne Lawson; conversation with Tom Teckmeyer; conversation with John Kellogg; conversation with Chris Schlesiger; and so on. And, of course, there are the weekly Panera meetings with Dick Wilson, Patrick Osborne, John Malek, and Allen Nelson.
* The Vital Signs Ministries letter-writing party of early May where 8 of us produced 50 "light-shining" cards and letters to political leaders, businessmen, and diplomats. Several more letters were then written in the days after.
* Very warm-hearted compliments on my novel The Christmas Room from workers at the 132nd & Maple Panera who have been passing it around.
* Successful surgical outcomes for a beloved family member and for one of my Panera pals.
* The liberation from this "veil of tears" for two dear saints who entered into the physical presence of their Lord: my Aunt Farris Ellsworth (whose memorial service I was honored to conduct down in Crane, Missouri) and a long-time friend from Glenwood, Marjorie Winter.
* A dramatic increase in 2018 in our correspondence ministry. A detailed schedule has helped, one that connects nicely with our revised prayer lists.
* The L'Abri Evening that we hosted at our home in late April which focused on creating relevant and ongoing spiritual disciplines was really great.
* The "When Swing Was King" shows get better and better — as do the enthusiastic responses to them from residents of the senior care facilities.
* Several major breakthroughs in pro-life legislation, both on the state and federal levels. (There were actually several individual notes dropped into the Jar regarding, for instance, Nebraska budget removing HHS money to abortion businesses, the Iowa heartbeat bill, and the Choose Life plates.)
* Karen Bowling and the Nebraska Family Alliance team blessing us by inviting Denny to do 3 interviews for their radio program.
* After dealing with bad weather and some health obstacles, we are so grateful to God for being back in the swing of Denny's walking regimen and doing lawn work.
* Claire's getting successfully through the 990 form and getting other Vital Signs Ministries business accomplished.
* Denny's invitation to preach the Mother's Day sermon at Calvary Community Church in Nebraska City. And the invitation to preach at Prairie Lane Reformed Church. And the invitation to speak to a men's breakfast at Emmanuel Fellowship Church.
* Super responses to the latest edition of our quarterly "When Swing Was King" newsletter.
* Chances to speak about the gospel to a Panera employee, neighbors, residents of the senior care facilities, Aunt Farris' homecoming service, and a fellow walking by the abortion mill when we were there praying.
*The delight I have in passing out Claire's chocolate chip cookies to the regulars at Panera. And their delight in eating them!
* Claire's superb time with 6 other ladies in the Mitford-themed tea she hosted in late April. The menu featured several items that show up in Jan Karon's Mitford novels including an orange marmalade cake that was a real triumph!
* The ongoing effects of reading the bible together every day as we listen to the narration by Alexander Scourby.
Okay, that's enough to give you an idea of how our Thanksgiving Jar works. As I said earlier, we have loved getting involved in it and see numerous blessings from doing so. We heartily encourage you to consider giving it a chance yourself. And, again, I hope our list serves as a kind of newsletter for what we have been up to lately. As always, thank you for your support – every prayer, every encouragement, every donation. We are forever grateful.
P.S. Though the evidence is increasing (both from our personal experience and national media) that Facebook, Twitter, and the other info/tech giants are censoring conservative speech, we are still trying to share truth on our blogs and our Facebook pages. Recent posts include: A) The full "taking action" list from our last letter-writing party; B) "Your Sins, Your Enemies, and Your Fears Will Be 'Cleared Away'" (being a commentary on Zephaniah 3:14,15); C) '"Making Mention' Prayers" (a commentary on First Thessalonians 1:2,3); D) "Envying Sinners? You'd Better Stop It" (a commentary on Proverbs 23:17,18); and E) quotations (and sometimes a bit longer selections) from Whittaker Chambers' Witness, Alexandr Solzhenitsyn's A World Split Apart, Lew Irwin's Deadly Times: The 1910 Bombing of the Los Angeles Times and America's Forgotten Decade of Terror, and Joni Eareckson Tada's daily devotionals.
So, for those of you connected to cyberspace, please make it a habit to occasionally stop by Vital Signs Blog, Vital Signs Ministries website and Facebook page, The Book Den, and our personal Facebook pages. You'll find some interesting, challenging, and helpful stuff when you do.
Until next month