Dear friends of Vital Signs Ministries, February 2020
Well, Claire and I have been home for a couple of weeks now following a quick but momentous trip to Washington, D.C. for the National March for Life. We are already moving swiftly along February's schedule with "When Swing Was King" shows, the mornings of prayer and pro-life witness outside the Planned Parenthood abortion mill, meetings, blog activity, etc. But the D.C. March, the President's remarks, the nearly 500,000 pro-life activists we walked alongside – these things will stay a part of us for a long time. And I should mention also that our participation in that remarkable event came right on the heels of the Walk for Life down in Lincoln just a few days earlier. That too was a deeply meaningful experience for us.
Of course, both of these events were profoundly somber to us (as they always are) because they stimulate fresh sorrow and mourning for the millions upon millions of preborn kids whose lives have been savagely ended by either surgical abortion or treacherous poisons. Therefore, both events call us to renew our fight against the devil and the evil doctrines which underlie "the silent holocaust." Also, both events recall to us intense memories from the many Lincoln and Washington marches in which we have participated over the course of more than 35 years. In this month's letter, I thought I'd share a couple of those memories with you.
We drove to Lincoln for our first Walk for Life way back in January of 1983 to mark the 11th anniversary of the monstrous Roe v Wade decision. The event ended up providing us new energy, new sources of information and assistance, new resolutions to fight for the protection of "the least of these." It was terrific. But on the drive home, Claire began to weep and, as we talked, the explanation of her tears deeply impressed me. You see, it came out that Claire had been expecting the Walk for Life to be a much more dramatic, confrontational event than it was. In her mind, a public march of this sort was going to involve violent counter-demonstrators and police with helmets, shields, and snarling K-9 dogs. A calm walk through the streets of Lincoln alongside families, young couples, teenagers from parochial schools, oldsters holding the hands of their grandkids, priests and professionals, caregivers and homemakers…you get the idea…this wasn't what Claire had at all anticipated. Thus, her tears were but a natural release of tension and anxiety.
As I pondered those sweet tears, I realized how truly impressive Claire's courage had been to go to the Walk. She had expected a world of confrontation and trouble, yet she had gone anyway – and without showing to me any hint of negativity or even nervousness. I was so moved by that and still am to this day. Now, as you well know, in the years following that Walk for Life, Claire has had to deal with some of those very things she feared on that cold day in 1983. As a sidewalk counselor, she has had aggressive pro-abortion zealots in her face; she's been arrested for peaceful prayers in front of abortion mills; she has dared to speak the truth in love in front of hostile opponents. In all of these trials, Claire has shown remarkable confidence and joyful trust in God. She is very tender-hearted, hospitable, and kind but she's also learned how to be a "tough cookie" when that's called for. I'm incredibly proud of her. But still, I often think back to Claire's tears after our first Walk for Life as one of the most endearing examples of her courage, passion for justice, and commitment to Christ that I've ever seen.
What about a keen memory from the Washington event? Well, my first of what would become many March for Life experiences was in 1985. Walking up Constitution Avenue with thousands of pro-lifers from all over the country (and with close friends Janet Lilius, Sue Blessing, and Howard Deever) was a marvelous thrill. But, at the conclusion of the March (when the crowds reached the Supreme Court building), things shifted into another gear. We Omahans went onto the Court steps along with several hundred other pro-lifers to engage in personal prayers. By the way, I should mention two things: 1) the Court was closed on that day; and 2) earlier that morning, there had been a boisterous rally of pro-abortion folks that had taken place on those very steps. No big deal – all Americans have rights of speech, religion, assembly, and peaceful redress of grievances, right? Well, that's not how the police saw things that day. Despite the permission granted the abortion zealots earlier to scream, threaten, and engage in over-the-top obscenities, the decision was now made to refuse peaceful, quiet Christians their turn to congregate on those same Court steps. My, my. Shouting out through bullhorns, they ordered the Christians to get off their knees and get off the Court property altogether or they would be immediately arrested. Now remember, no one was interrupting Court business and no one was impeding anyone's access to anywhere. Nevertheless, out came the handcuffs.
I decided not to obey that unfair order and, along with 26 other pro-lifers (all Catholics, all previously unknown to me), I continued to pray where I knelt. And so we were arrested, wrists bound, loaded into wagons, booked for "incommoding" (which we were told was the same charge issued against fellows urinating in public), given a bologna sandwich, and escorted into jail cells without bedding. But it wasn't just one jail we experienced – it was three different jails as they moved us around and kept us completely incommunicado. No phone calls. No indications of what was next. No one knowing where we were being held. It was quite different treatment from how the D.C. police handled more politically-correct protestors and some of the officers were embarrassed by that fact — and told us so. Nevertheless, we were behind bars for 2 days before the efforts of Congressman Hal Daub and an ACLU lawyer (who just happened to encounter us in the jailhouse and was incensed that we were being treated so harshly) got us out.
Understandably then, these two things (Claire's tears of relief and my first arrest, an event which made page one news back here in Omaha) represent distinctly memorable moments. Nevertheless, I would be more than remiss if I didn't mention several other things related to these anniversary events that we treasure even more.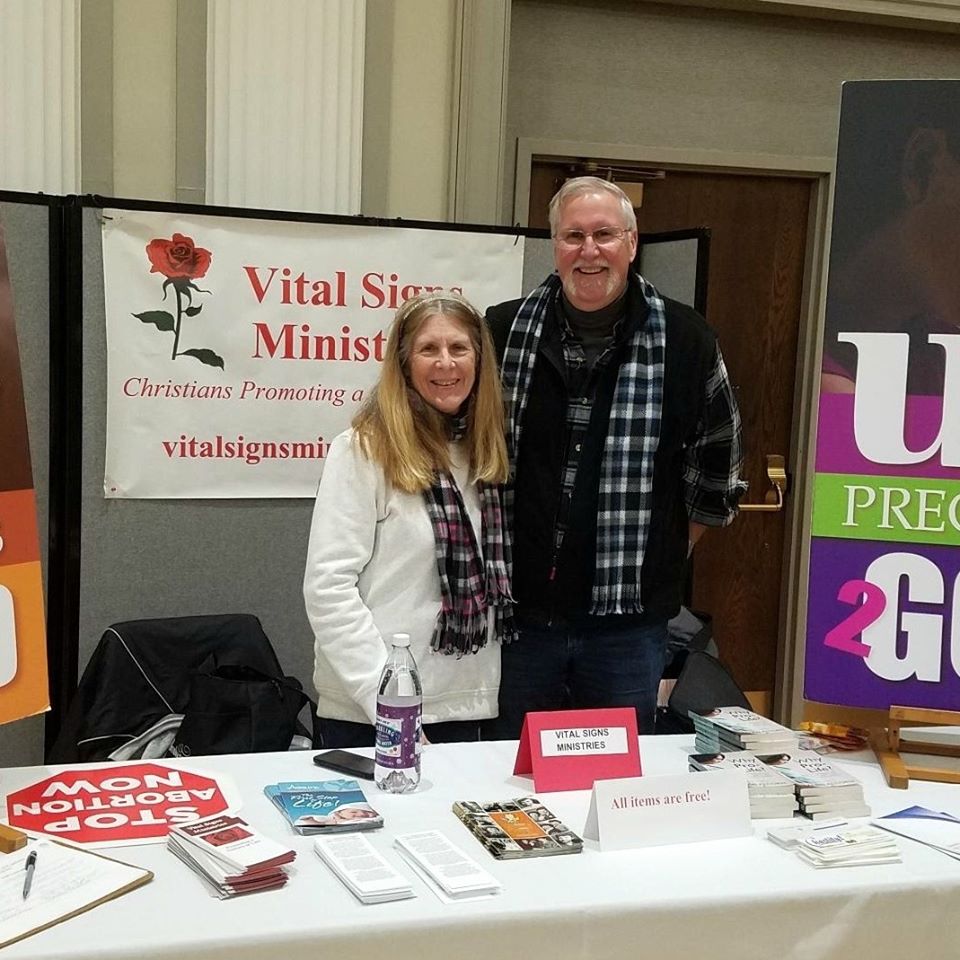 1) The inspirational speakers we have heard from the platforms. 2) The wise, witty, and lovely pro-life signs and banners we have seen. 3) The conversations we have enjoyed with saints from all over Nebraska and the nation. 4) The "sanity check" which comes from testifying in concert with thousands upon thousands of dedicated pro-life Christians. 5) The intense prayers and resolutions which God has empowered us to make in these critical anniversary events.
Other items? 6) Presenting a literature booth every year at the UNL Student Union following the Walk for Life. We have passed out a lot of brochures, a lot of Randy Alcorn's Why Pro-Life? books, a lot of Precious Feet pins and bookmarks, a lot of Vital Signs' own booklets on "Abortion & Church History" and "Key Scriptural Passages on the Sanctity of Human Life," and we've made a lot of new friends who come by to visit and sign up for our monthly letter. 7) I've been honored to lead the Lincoln crowd in prayer, to give media interviews, and even, on one particularly frigid morning, to serve as a program speaker. 8) The chance to "network" with friends from all over Nebraska including the stalwarts from Nebraska Right to Life who sponsor the Walk every year. We have also enjoyed spending time with political leaders who are authentic pro-life champions…people like Hal Daub, Bernice Labedz, Kay Orr, Don Stenberg, and nowadays, Tony Fulton, Jeff Fortenberry, Doug Bacon, Mike Foley, and Pete Ricketts.
And what about specific memories of the D.C. March?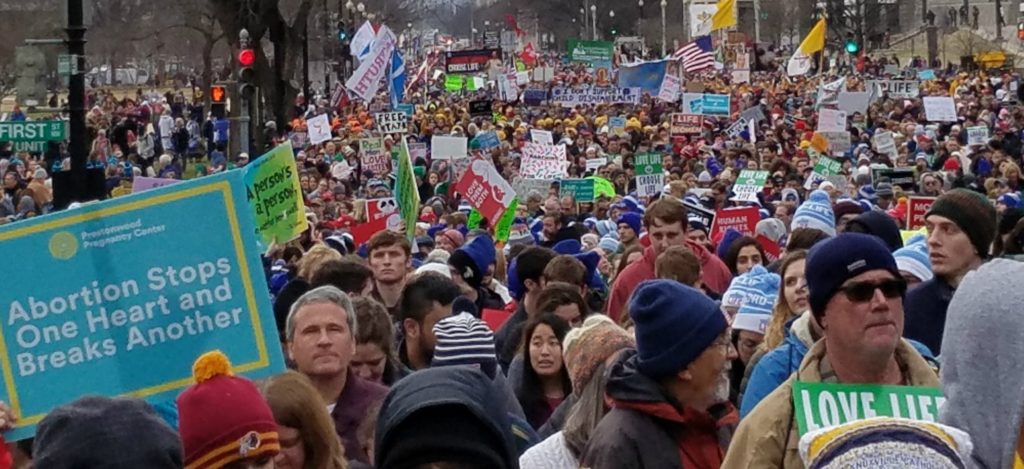 9) Many of our times Vital Signs has hosted "field trips" in which several of our colleagues joined us as we traveled together to D.C. for the March, informal prayers at key places of power, meeting our political representatives, connecting with other pro-life and pro-family groups, visits to such places as the Lincoln Memorial and Arlington National Cemetery, and sometimes involvement in direct actions at area abortion mills. On several of those trips we enjoyed the hospitality of Dr. John & Martha O'Keefe and Dr. Rob & Rita Cox. 10) In several of those aforementioned direct actions at abortion businesses, I was arrested for peacefully praying on the property. And so, yes, I eventually became pretty well acquainted with the D.C. jail system. 11) Certainly one of the loftiest experiences was, on the night before the March, I was honored to attend an inaugural ball held on the White House grounds to celebrate Ronald Reagan's re-election. Yeah, pretty cool. 12) And, of course, in every one of those Marches there was the incomparable thrill of being a part of the largest annual human rights demonstration in the world! Who couldn't help but treasure and be forever changed by such experiences?
And now this trail of memories brings me to our latest adventures and for, even though our long history of participation in the Walk for Life in Lincoln and the March for Life in Washington, D.C., these anniversary events never fail to challenge, inspire, and empower our hearts for the pro-life ministry to which God has called us. And that "sanity check" I mentioned earlier? It's more wonderful than ever before, in part because we see strong evidence that the torch is not only being passed to the next generation but also that it is being increasingly passed across racial, economic, and social lines. Along the extremely crowded route this year (the National Park Service estimates ranged from 450, 000 to 500,000), Claire and I walked and talked with native Americans from New Mexico and Arizona, Asian Americans from Ohio and big cities on both coasts, African Americans from Illinois and Virginia, Latinos from Colorado and Texas, and so on. All young. All enthusiastic. All pretty well versed on life issues. And all deeply committed to the rallying cry of "Pro-Science, Pro-Woman, Pro-Life."
So, will we have to attend another Walk or another March next year? I pray not as, of course, I yearn instead for the return of Christ when our duties as prophets, evangelists, and cultural warriors will have ceased forever. But if legalized abortion continues in any degree, and if the misnamed "progressives" have not yet done away with free speech and assembly, there will be a Walk for Life in Lincoln and a March for Life in Washington, D.C. Therefore, if God grants us life and health and mobility, we will be there.
How about you? Would you consider joining us next year for one or both events? Even if health concerns prevent you from walking long distances or being in the cold air, you could help man the booth at the UNL Student Union after the Walk for Life or participate in other ways. The same is true of the D.C. "field trip." Even commitments for special prayers, donations to help young people pay for air travel and lodging, spreading the news about these great pro-life opportunities to churches and other Christian groups. Please think about it. Pray about it. And, if there's any spark of interest, certainly talk to us about it. Thank you.
Thanks also for your faithful support of Vital Signs Ministries. We are, as always, profoundly grateful for every prayer, every donation, every encouragement. By the way, I think you'll find next month's letter very interesting as it will be a review of the effects of our "When Swing Was King" outreach and it will be written by the activity directors themselves who represent the senior facilities where we present the shows every month. Until then, I'll catch you on the Vital Signs Ministries website, Vital Signs Blog, or our Facebook pages.