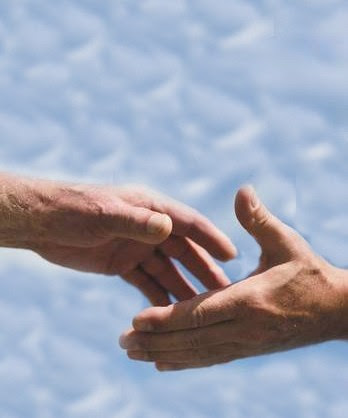 Rather than considering the Christian life an inevitable movement between highs and lows, the far healthier perspective (that is, the one that is more biblically-centered) is to consider the Christian life an ongoing pilgrimage in which our hand must always hold fast to the hand of our Lord as He lovingly, unerringly leads us to heaven. Our emotions may be fluid and fickle, and we will experience seasons of dryness and sadness, yet this is when our grip on Jesus' hand must be more firm and tenacious than ever. And, of course, we must be diligent not to release our grip when things seem to be more pleasant and comfortable.
Remember the opening verse of the great hymn, "Jesus Paid It All"? "I hear the Savior say, 'Thy strength indeed is small. Child of weakness, watch and pray. Find in Me thine all in all.'" By the power of the Holy Spirit, our pilgrimage can be steady and blessed and fruitful, no matter what comes our way. The weakening of our bodies, the wounds that come from loss and disappointment, the wolves that are ever abroad in this decadent world – all of these assail us with regularity and increasing force. Yet in Christ, we truly can find our "all in all."
In Him we can find confidence, joy, and the supernatural power to rise above circumstances as we exercise faith towards our Lord and love in action towards others. We cling tighter to He Who is our help and hope — and we keep moving forward. Moment by moment. Step by step. One act of kindness, one recitation of a Scripture verse, one word of encouragement to others, one smile in anticipation of the heavenly rewards awaiting us, one fervent prayer…at a time.
Our pilgrimage is a journey, but we are not alone. We have the loving help of Jesus Christ, including the blessed gifts of His Word and the fellowship of His other adopted children. And never forget that our pilgrimage has a destination — a glorious, wonderful, and forever destination that isn't actually an end, but an exciting and eternal beginning.
"Then I saw a new heaven and a new earth; for the first heaven and the first earth passed away, and there is no longer any sea. And I saw the holy city, new Jerusalem, coming down out of heaven from God, made ready as a bride adorned for her husband. And I heard a loud voice from the throne, saying, 'Behold, the tabernacle of God is among men, and He will dwell among them, and they shall be His people, and God Himself will be among them, and He will wipe away every tear from their eyes; and there will no longer be any death; there will no longer be any mourning, or crying, or pain; the first things have passed away.'" (Revelation 21:1-4)
By the way, I write these words after a week which included visits to my little sister who is suffering from severe and accelerating dementia plus another very difficult day in which we sat with a friend in the emergency room for 10 hours after having to call the rescue squad for help. There were yet other visits to ailing friends in hospital and in a rehab center as well. It was also a week with prayers and a public pro-life witness outside an abortion business, writing letters to friends dealing with various challenges, and many conversations with elderly friends living in care facilities following our "When Swing Was King" shows and our Sunday afternoon church service at Aksarben Village Senior Living.
However, it was also a week with such happy moments as the wedding of two remarkable friends and a successful, inspirational fundraising banquet for Assure Women's Center. And, more in the middle as concerns emotions, the week saw a lot more of what you could call "pedestrian" activities: mowing the lawn, getting the car fixed, reading, sermon preparation, editing material for the Vital Signs Ministries website, meal preparation…you get the idea.
In other words, it was a week one might understandably interpret as moving from highs to lows, from happy moments to horrid, from successes to sorrows. But that would be an illusion for, as I've explained above, the true perspective is to see the Christian life as an ongoing series of adventures – a step by step pilgrimage with the Lord Jesus Who will give us all we need to pass each test, to escape every temptation, to take advantage of every opportunity to lay up treasures in heaven.
We are not straws in the winds of fate. We are not slaves to our surroundings or emotions. We are warriors on a mission. And no matter the specific challenges we encounter, His purposes and enabling power remain constant.
"Therefore, since we have a great high priest who has passed through the heavens, Jesus the Son of God, let's hold firmly to our confession. For we do not have a high priest who cannot sympathize with our weaknesses, but One who has been tempted in all things just as we are, yet without sin. Therefore let's approach the throne of grace with confidence, so that we may receive mercy and find grace for help at the time of our need." (Hebrews 4:14-16)
"Therefore, since we also have such a great cloud of witnesses surrounding us, let's rid ourselves of every obstacle and the sin which so easily entangles us, and let's run with endurance the race that is set before us, looking only at Jesus, the originator and perfecter of the faith, who for the joy set before Him endured the cross, despising the shame, and has sat down at the right hand of the throne of God. For consider Him who has endured such hostility by sinners against Himself, so that you will not grow weary and lose heart." (Hebrews 12: 1-3)