Our "When Swing Was King" audiences are always enthusiastic in their praise of the program and, with the social graces that mark that generation so much more than those that are following them, they are very expressive of their appreciation. And we never tire of hearing their compliments and thanks nor the stories that the WSWK songs and photos stimulate.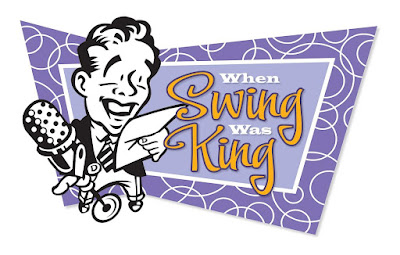 Nevertheless, the response from Joe, the lone gentleman in yesterday's audience at Immanuel Courtyard Assisted Living, was particularly moving to us for he not only seemed transfixed with every number, but his endearing smile and sparkling eyes throughout the program really touched our hearts. And in our conversation afterward, Joe was terrific fun. "Oh, oh; that was wonderful! That was so beautiful. I knew so many of those songs and I loved even the ones I didn't remember so well. And those pictures! They were so real – just like visiting my family and old friends…I felt like I could almost reach out and touch them! What wonderful, wonderful memories! Oh, if you could only start and play it all over again!"
Our subsequent conversation covered Joe's family history, his work, the unique cane he was using (which he made and decorated himself), and more of his commentary about his life-long love of music. My favorite observation of his? "You know, when I was a young boy, my family was poor. Very poor. But I didn't know that – that didn't bother me. And you know why? It was because there was love in our home. And because we had 2 things which we all loved, two great blessings that made me feel like I was rich – a dog and a radio! And oh, how my father loved that radio – the music and the programs – but mostly the music. And so we loved music too. And I think the dog did too! Oh, yes, we were rich because of that music and you and your wife brought all that back to me today! Thank you, thank you. Please come back soon!"
Ah, the blessings of "When Swing Was King"!