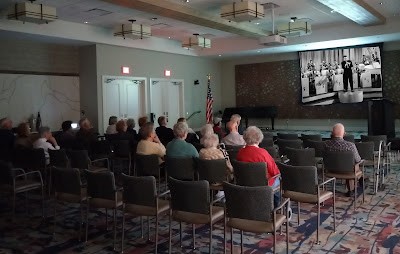 A missionary friend of mine (for this post, I'll call him "Cyrus") once asked me in a letter, "Would you tell me more about the ministry of When Swing Was King? I have no idea what that is. Does it have anything to do with dancing? I was converted out of the dancing world, and would like to know what this is and how you use it for the Kingdom. What do your presentations consist of? Perhaps it is just the name that confuses me."
Here's my reply:
Dear Cyrus,
Well, first of all, you intrigue me with the comment, "I was converted out of the dancing world." That evokes quite a visual, my friend. ☺ However, that's for another time. In the meantime, I'll try and answer your questions.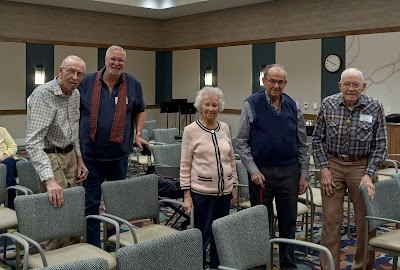 When Swing Was King is now our primary (and extremely popular) ministry to nursing home and assisted
living residents. But let me first give you a little background. Throughout our 40 years of pro-life activism through Vital Signs Ministries, we have had various outreaches to seniors. For about 20 years, that meant monthly team visits to Mercy Care Center here in Omaha. We visited, played games, brought kittens and puppies for the residents to pet, brought kids to sing and dance, engaged in various kinds of crafts, dressed up in costumes, made treats to share, did sing-alongs – you name it. Furthermore, we encouraged an adopt-a-grandparent program to help individual families develop ongoing friendships with the residents. All of these were effective ways of entertaining and befriending and the staff of Mercy Care loved us because we were popular with the residents and because we were faithful. Indeed, ours was the only group to visit every month. As a result, the staff members didn't interfere with such "spinoff" activities as singing gospel songs, engaging in religious-themed conversations, or praying with residents.
But then Mercy Care Center closed, ostensibly due to an asbestos problem. So we took our activities to another nursing home. After a few years there, however, our ministry dwindled. First of all, the facility began putting some pretty serious restrictions on our activities and so the numbers of our visitation team sharply decreased. But also, Claire and I found we were spending a lot more hours in a more personal "mercy ministry;" namely, caring for my Mom.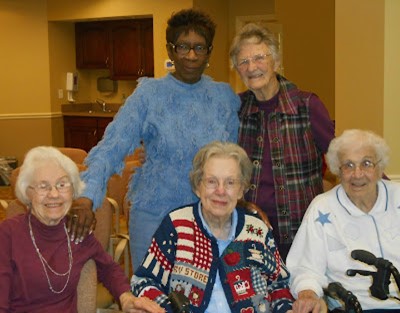 And then came When Swing Was King.
It still amazes us to remember that this outreach, new volumes of which are now being presented in several nursing homes and assisted living facilities every month, began in July 2010 as a one-time event. We were planning a party Mom and some of her friends at Life Care Center, the nursing home where she was living after her frontal lobe dementia required skilled nursing care. But out of that single party idea evolved an outreach with more profound impact than anything we could have dreamed.
But, before I speak about its impact, let me describe to you exactly what When Swing Was King became in those first few months after its debut. Each of the monthly programs has 4 key elements. 1) Every volume has 12 songs. These are the original songs played by the original artists from the stars of the big band era. Glenn Miller, Benny Goodman, Duke Ellington, Harry James, Tommy Dorsey, Chick Webb, Lawrence Welk, Count Basie, and Artie Shaw are regularly featured as are such popular singers as Frank Sinatra, Nat King Cole, Bing Crosby, Helen Forrest, Vaughn Monroe, and the Mills Brothers. These songs (as well as show tunes and other chart-topping records) are those for which the seniors in our audiences feel great familiarity and affection.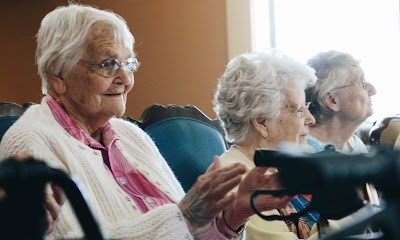 2) While those songs play, there are 240-265 photographs projected from a Power Point onto a big screen. They are photos that generally fit the era: fashions, couples in love, cars, kids, city and farm, military and the home front, popular ads, families, school days, household appliances – you get the idea. 3) A personal commentary that includes DJ-style introductions to the songs along with occasional tidbits about the times, the musicians and songs, and the pictures. That commentary not only provides context and added interest, it is often a source of humor and fun. And finally 4) Personal visits before and after the presentation itself. Thus are the ways When Swing Was King opens doors to sincere and ongoing friendships with residents (and staff) of the senior living facilities.
Now let me be clear, Cyrus, When Swing Was King is primarily an entertainment program. Except for the Christmas show (which is distinctly, joyously Christian), the outreach is designed to overcome boredom and lethargy, lift the spirit from depression and self-pity, stimulate memory, and encourage social interaction. And, I'm pleased to say, that When Swing Was King has scored remarkably high in all those areas. Therefore, by giving the residents a multi-dimensional, well-crafted, and deeply appreciated entertainment program, we end up also creating a winsome witness for the Christian faith. And, as you might guess, that has led to many things: conversations about religious subjects, prayers, hospital visits, me being asked by staff to pray for residents in need, me being asked by family to conduct funerals for residents whose friendship we had formed through When Swing Was King, and more.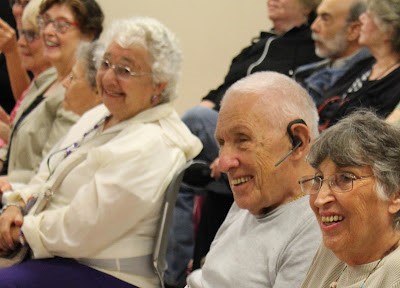 Indeed, Cyrus, When Swing Was King is beloved not only because seniors are hearing the music of their youth – although that's no small thing in itself – but because it provides them with a lovely trip down memory lane through the photos, the commentary, and the conversations the show inspires. And did I mention that much of the trust and affection that When Swing Was King has won from residents and staff is because we present quality shows every month? And that each show is actually new and unique? And that each show is completely free?
As you might guess, the virus and the resultant lockdowns wreaked havoc on our When Swing Was King schedule. Before then we were doing shows at 12 facilities every month. And though we did none at all for nearly 18 months, we tried to keep relationships alive by providing a 9-page activity packet to each facility every week. And now, thank the Lord, we are climbing back into a more substantial schedule. Currently, we are back to 8 shows a month with our hopes and prayers lifted to do still more soon.
I guess that's more than you need to know but I thought I'd give you a detailed view of When Swing Was King to best answer your question. But I have two more suggestions for you, Cyrus. One is come see a When Swing Was King show yourself sometime. I think you'd find it enlightening and heartwarming. And second, read a few of the testimonies below to see a little more about how others have responded. And thanks so much for your interest in this element of Vital Signs Ministries.
Denny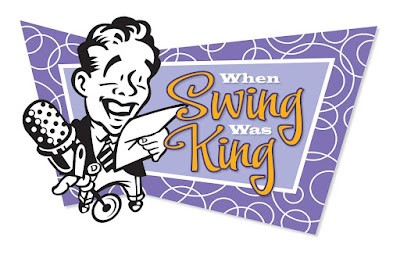 "From the first song you played till the last, my legs and feet wouldn't keep still. And on some of those
songs, other parts were moving that hadn't moved in quite awhile! What great music and such memories!" (Resident)
"When Swing Was King is a much enjoyed special event in our facility. Our residents look forward to this time of musical reminiscence…The quality of this presentation is awesome. I am so grateful to Denny and Claire for enhancing our activity calendar. I appreciate their kindness in sharing their time and talent." (Activities director)
"That brought back so many memories, both sad and happy. I'm going to be thinking about this the whole afternoon. Thank you so much for coming. It was the best program we've ever had here." (Resident)
"This reminded me so well of the good old days. Why, I hadn't heard Vaughn Monroe or the Andrews Sisters for I can't remember when. Thank you. This was really grand." (Resident)
"Our residents love When Swing was King. They await the program all morning and enjoy reminiscing about it after it is through. It's like a window to the past and can get all of them reminiscing about those times. The pictures and the music are wonderful! We look forward to When Swing was King every month! Thanks, Claire and Denny!" (Activities director)
"Where did you find all of those pictures? And the music! If I could have danced, I sure would have! This was delightful. Please come back again and again." (Resident)