"When Swing Was King: The Sights and Sounds of the Big Band Era" is a sentimental journey back to the 1930s, 1940s and 1950s, the heady days of youth for most of the residents of today's retirement centers and nursing homes. It is a wholesome, fun program that brings comfort, awakens memories, and lifts spirits.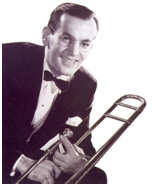 There are currently 23 volumes (including a special Christmas edition) in the "When Swing Was King" series, each running about 45 minutes and containing 12 different songs. Every volume includes music from such greats as Glenn Miller, Benny Goodman, Duke Ellington, Harry James, Tommy Dorsey, Count Basie, and Artie Shaw. Also showing up in the mix are such popular singers as Frank Sinatra, Nat King Cole, Bing Crosby, Helen Forrest, Doris Day, and the Mills Brothers. And while the music plays, the audience enjoys some 160-180 pictures of the era's musicians, cars, films, ads, celebrities, household furnishings, and more on the big screen in front of them.
"When Swing Was King" has been enthusiastically received by both residents and staff in every facility where it's been presented. Here are a few examples: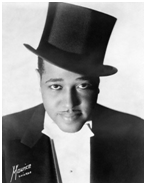 "From the first song you played till the last, my legs and feet wouldn't keep still. And on some of those songs, other parts were moving that hadn't moved in quite awhile! What great music and such memories!" (Resident)
"'When Swing Was King' is a much enjoyed special event in our facility. Our residents look forward to this time of musical reminiscence…The quality of this presentation is awesome. I am so grateful to Denny and Claire for enhancing our activity calendar. I appreciate their kindness in sharing their time and talent." (Activities director, Lindenwood Nursing Home)
"That brought back so many memories, both sad and happy. I'm going to be thinking about this the whole afternoon. Thank you so much for coming. It was the best program we've ever had here." (Resident)
"This reminded me so well of the good old days. Why, I hadn't heard Vaughn Monroe or the Andrews Sisters for I can't remember when. Thank you. This was really grand." (Resident)
"Our residents love 'When Swing was King.' They await the program all morning and enjoy reminiscing about it after it is through. It's like a window to the past and can get all of them reminiscing about those times. The pictures and the music are wonderful! We look forward to 'When Swing was King' every month! Thanks, Claire and Denny!" (Activities director, Skyline Retirement Community)
"We have no way to hear this music anymore. They don't play it on the radio and I don't have the records anymore. Thank you for bringing it to us. Please come back soon." (Resident)
"Denny and Claire do a fantastic job bringing to life the big band music with a Power Point presentation of photo clips from the '30s through the '50s which they designed themselves. Denny also narrates between the songs, sharing fascinating facts and trivia about the singers and music which make it very interesting and educational…The residents absolutely love to hear, see and experience 'When Swing Was King!'" (Activities director, Assisted Living at Immanuel Courtyard)
"Where did you find all of those pictures? And the music! If I could have danced, I sure would have! This was delightful. Please come back again and again." (Resident)
"When Swing Was King" is fun. It's festive. And it's free! It is our thank-you to America's "greatest generation" for their efforts in building, defending and enriching our nation.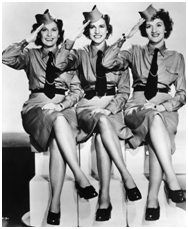 "When Swing Was King" is presented by Denny and Claire Hartford of Vital Signs Ministries, a Christian organization that, throughout it's nearly 30 years of service, has provided various programs for nursing home residents. "When Swing Was King" is their newest program but it is clearly the most popular of all. Initially conceived as a ministry to Denny's mother and her friends who lived at Life Care Center of Omaha, the program quickly created a buzz and the Hartfords started receiving requests from other facilities. The Hartfords now present "When Swing Was King" at 12 facilities every month. They provide all the equipment necessary for the program: the screen, Power Point projector, laptop computer, speakers, and even promotional posters for display in the facilities.
For more information, please contact Claire Hartford at (402) 341-8886.